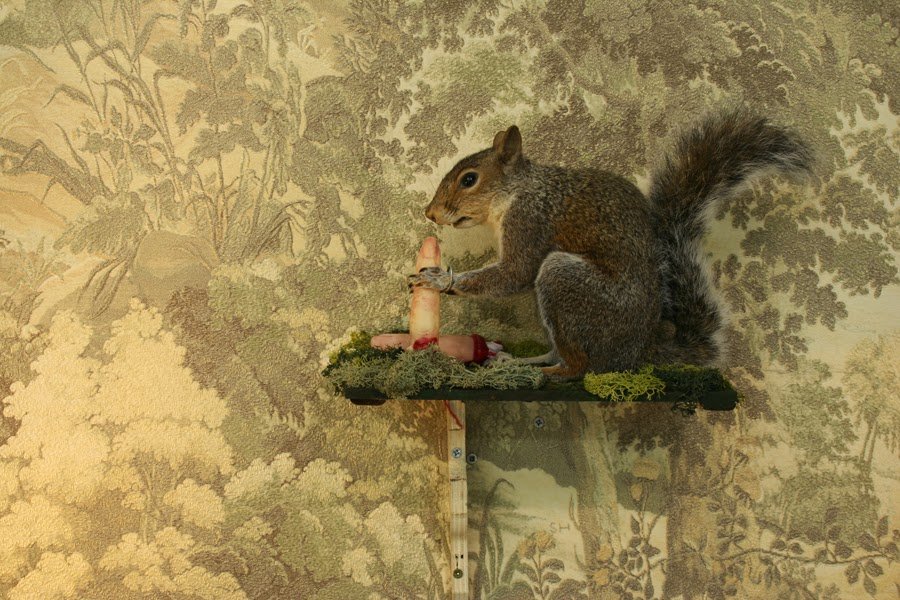 ~ 'Nuts', 2011 ~ Taxidermy squirrel, fingers, scatter mix ~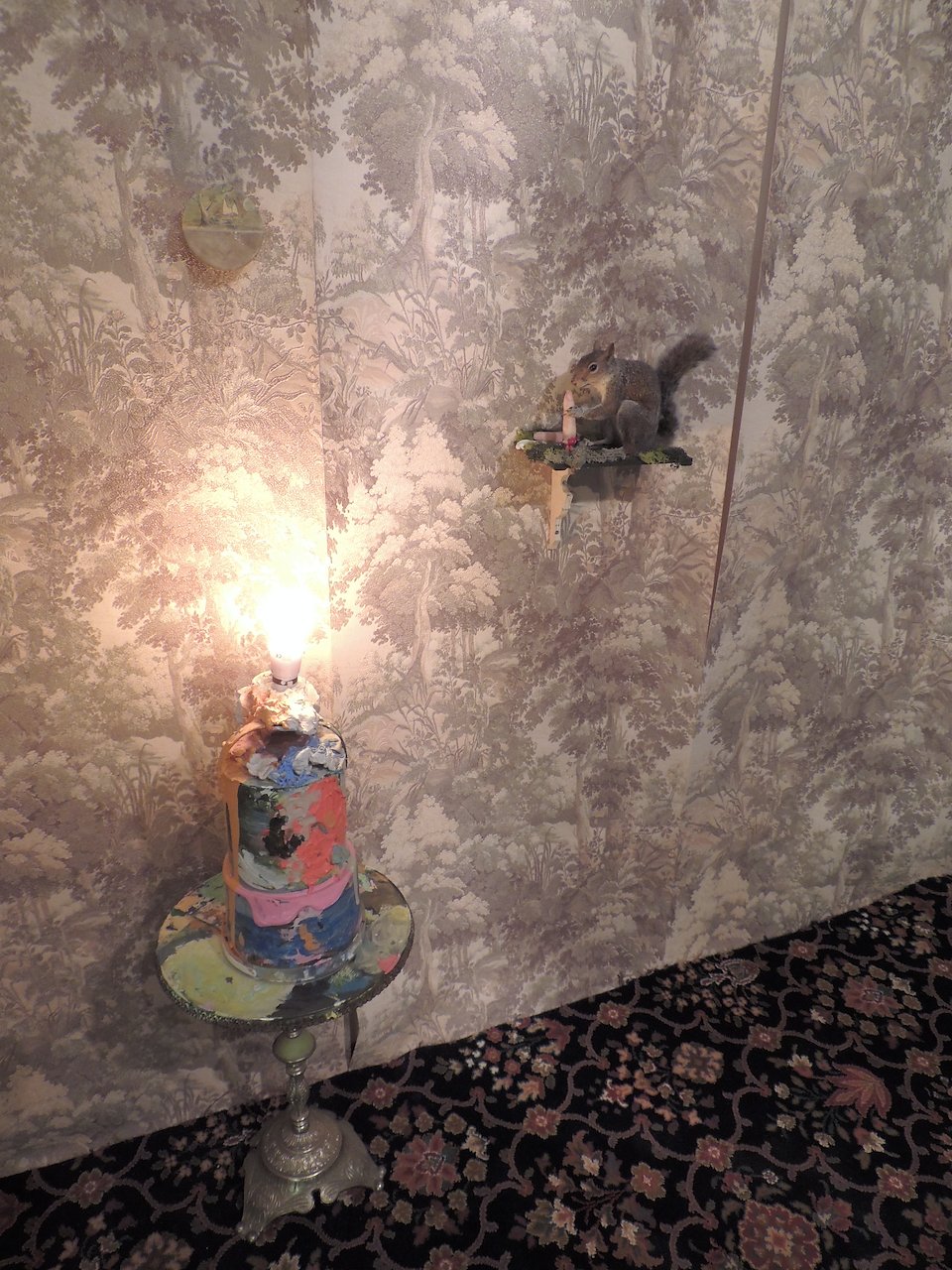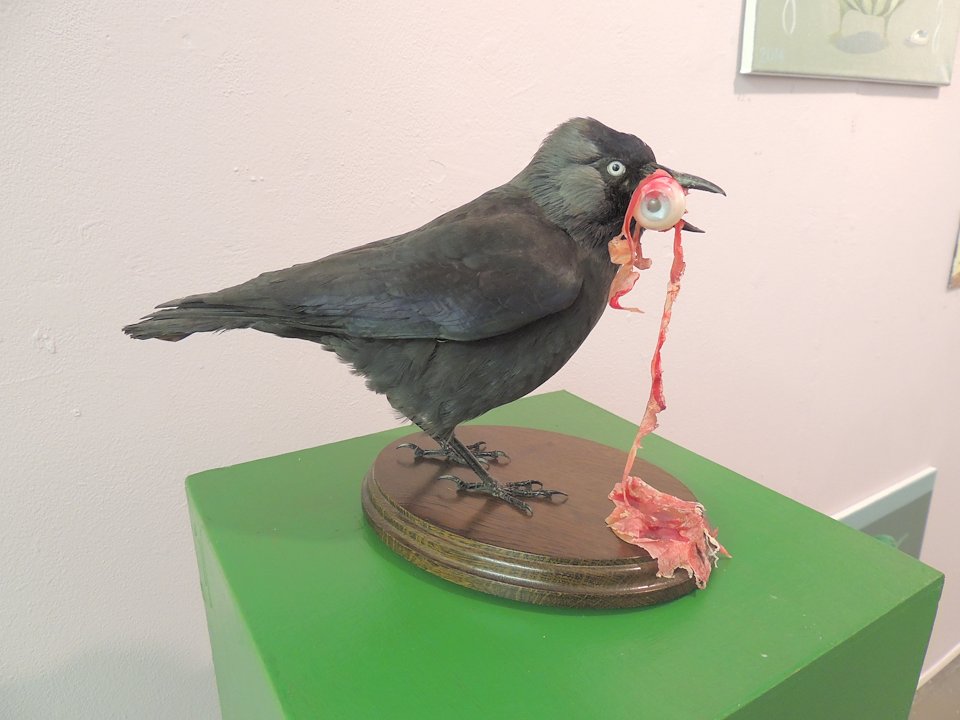 ~ 'Bird's Eye', 2012 ~ Taxidermy Jackdaw, Latex, eyeball ~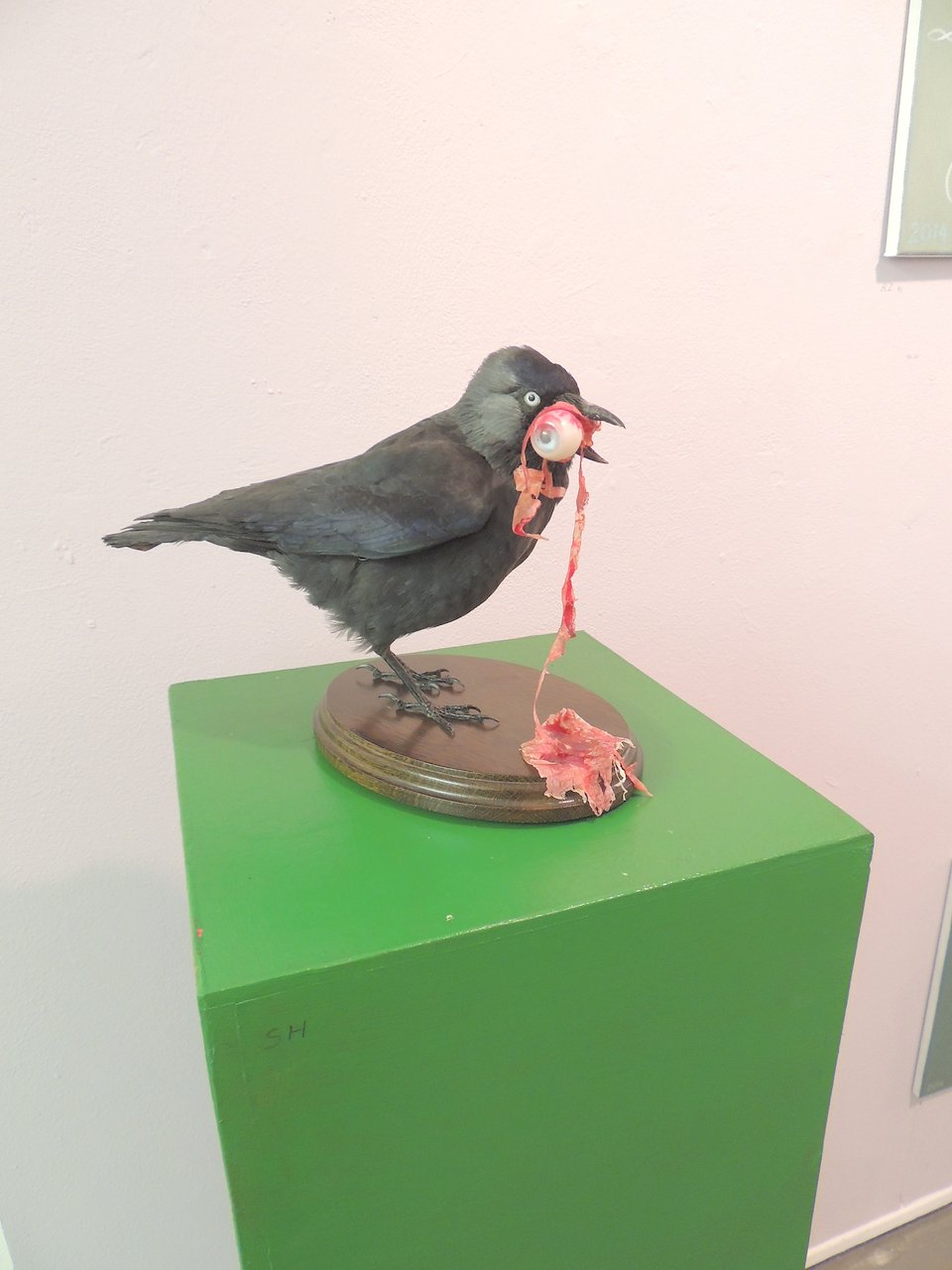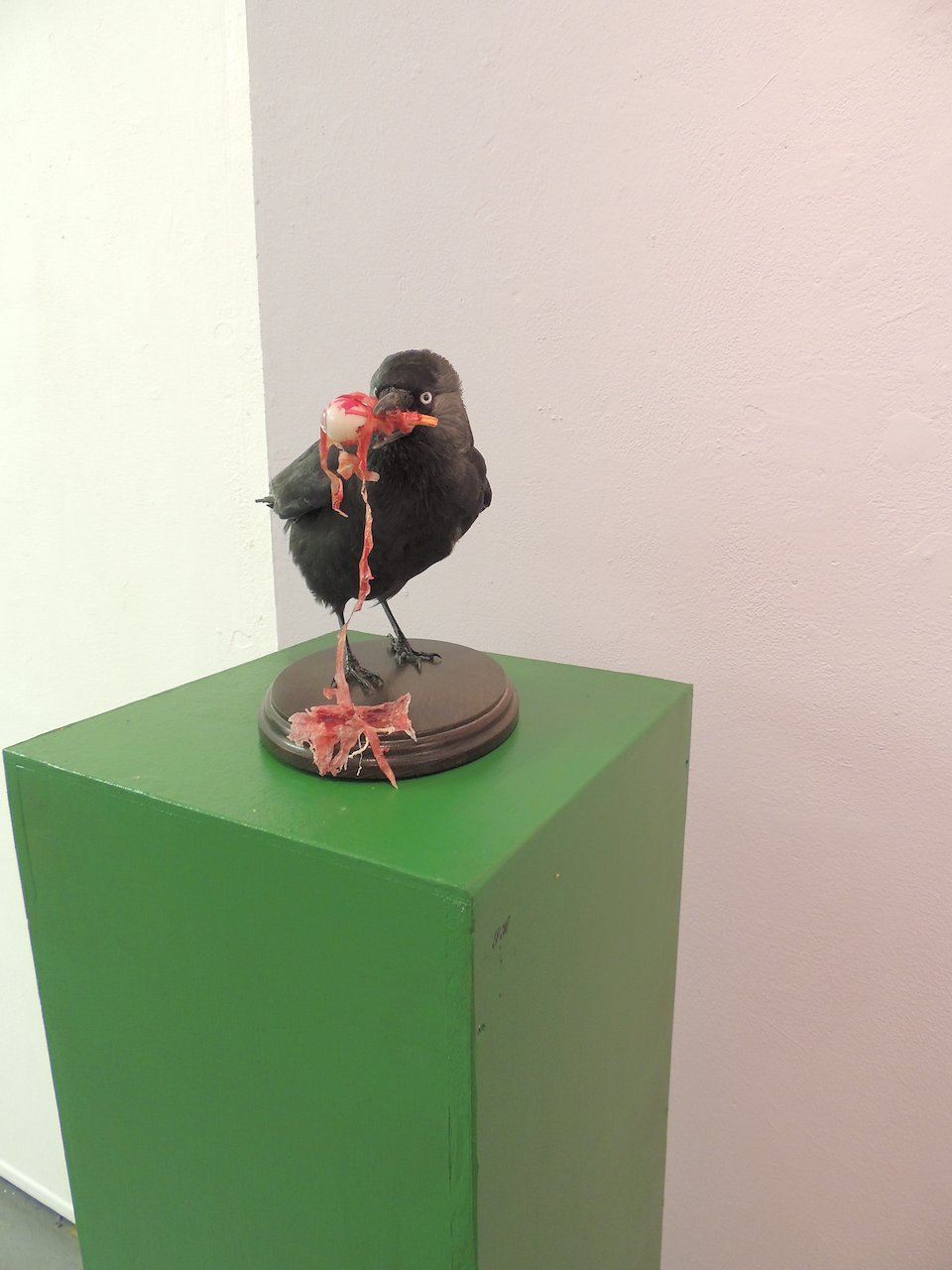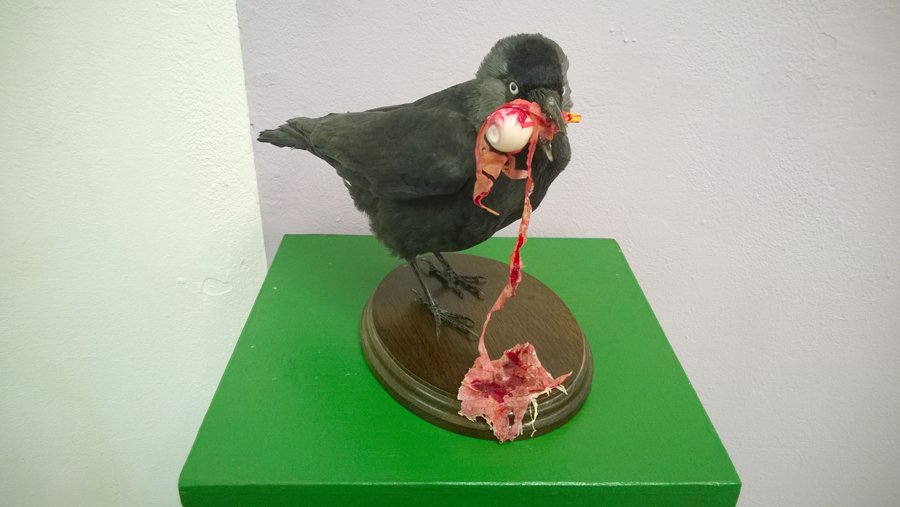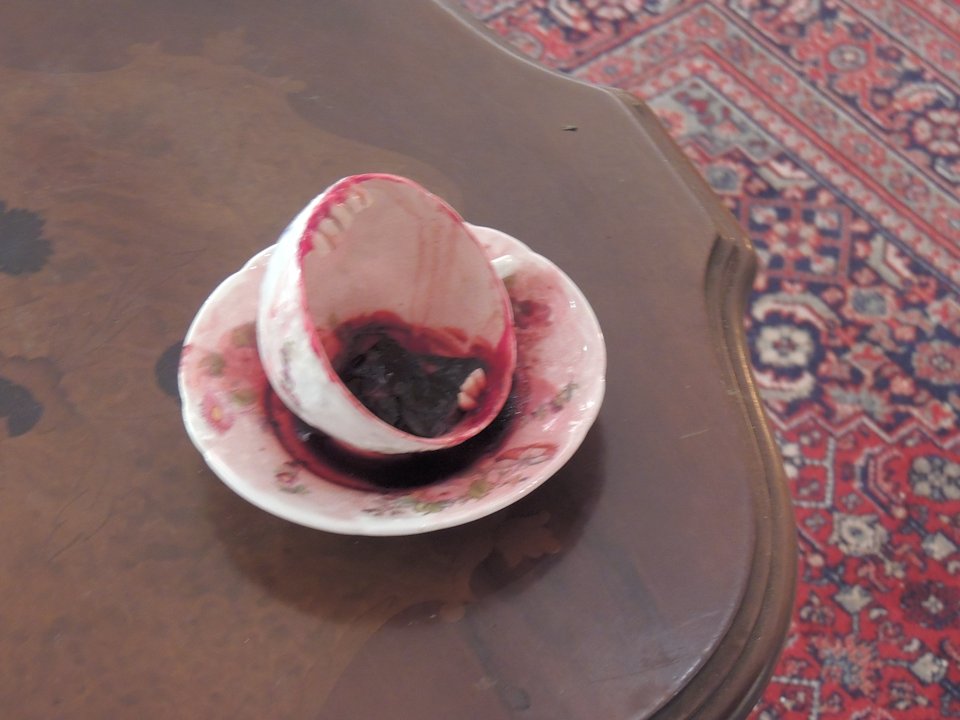 ~ 'Anyone for Tea..?', 2013 ~ Vintage Teacup, Teeth, Teabag ~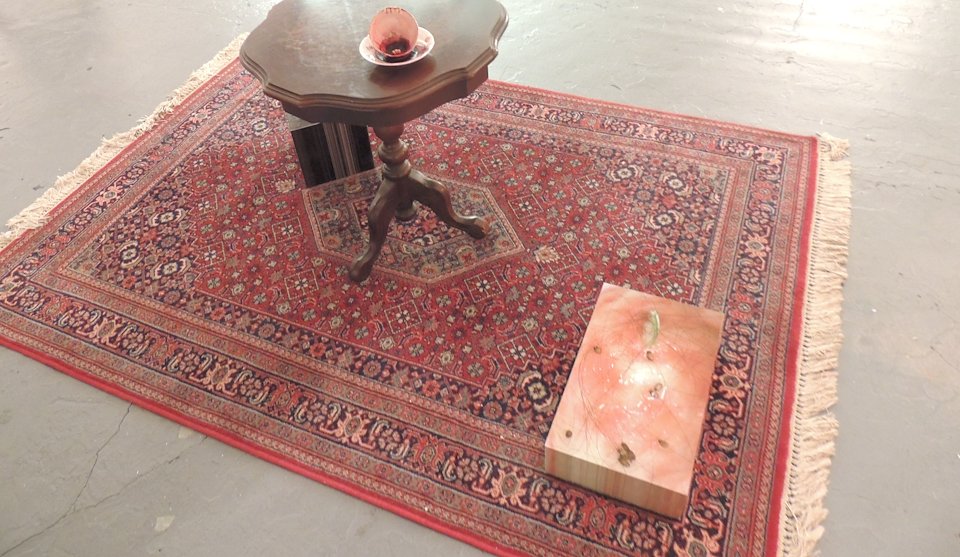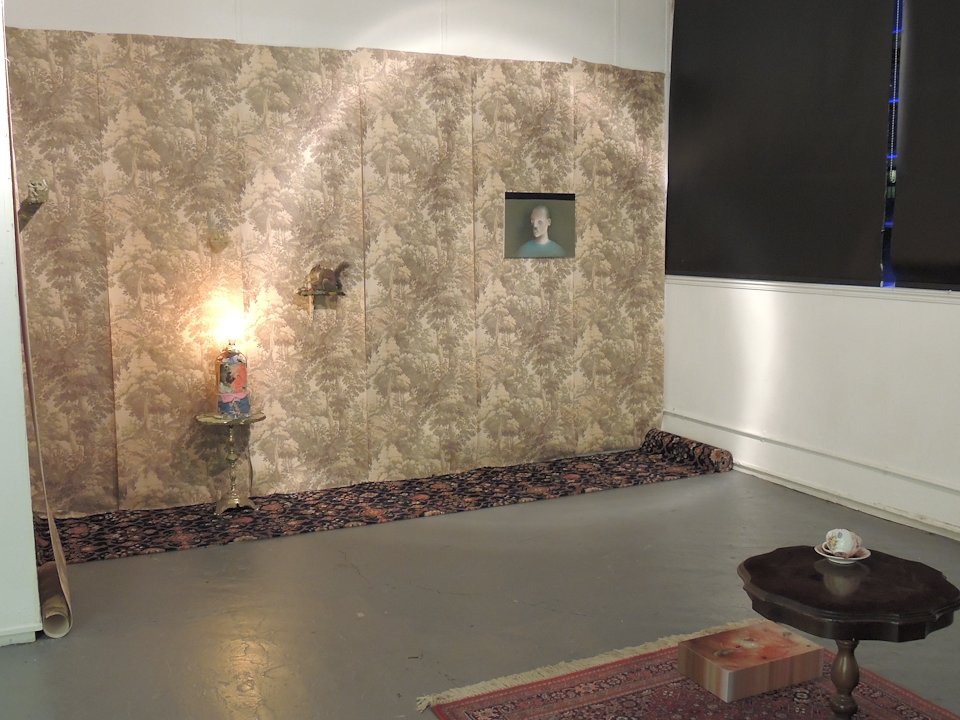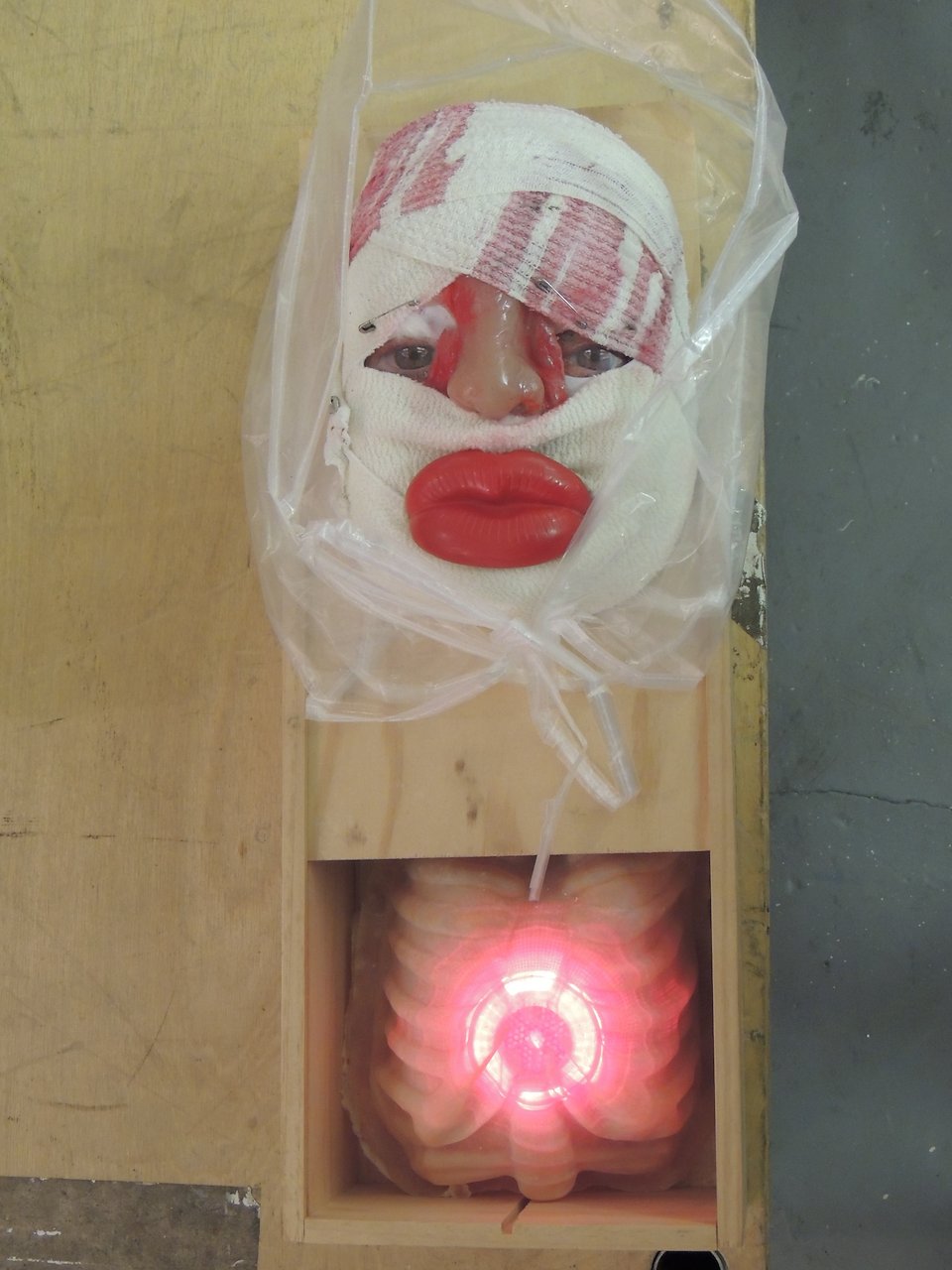 ~ 'Boxed In', 2014 ~ Mixed Media ~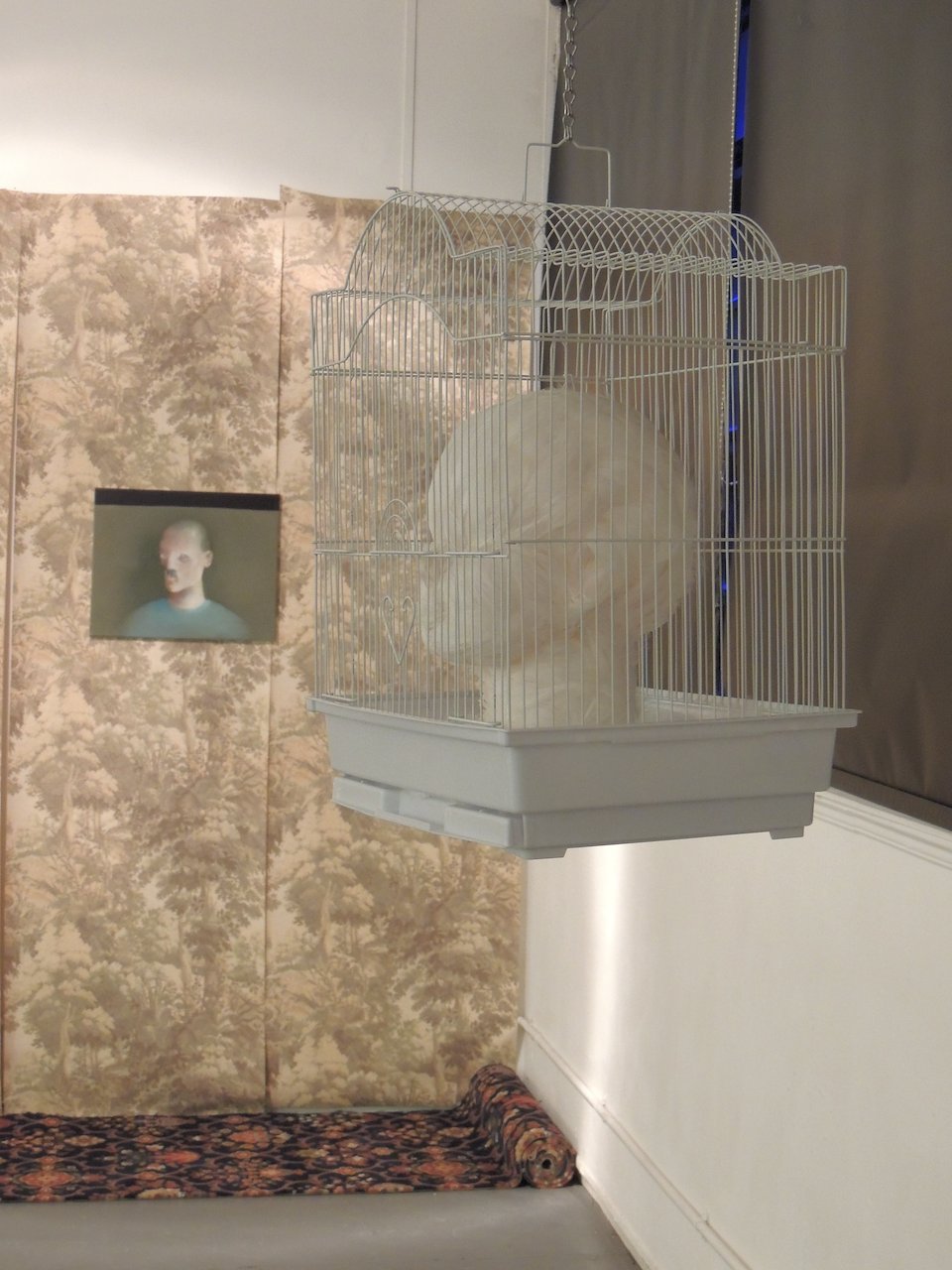 ~ 'Clipped', 2013 ~ Birdcage, 200 goose feathers ~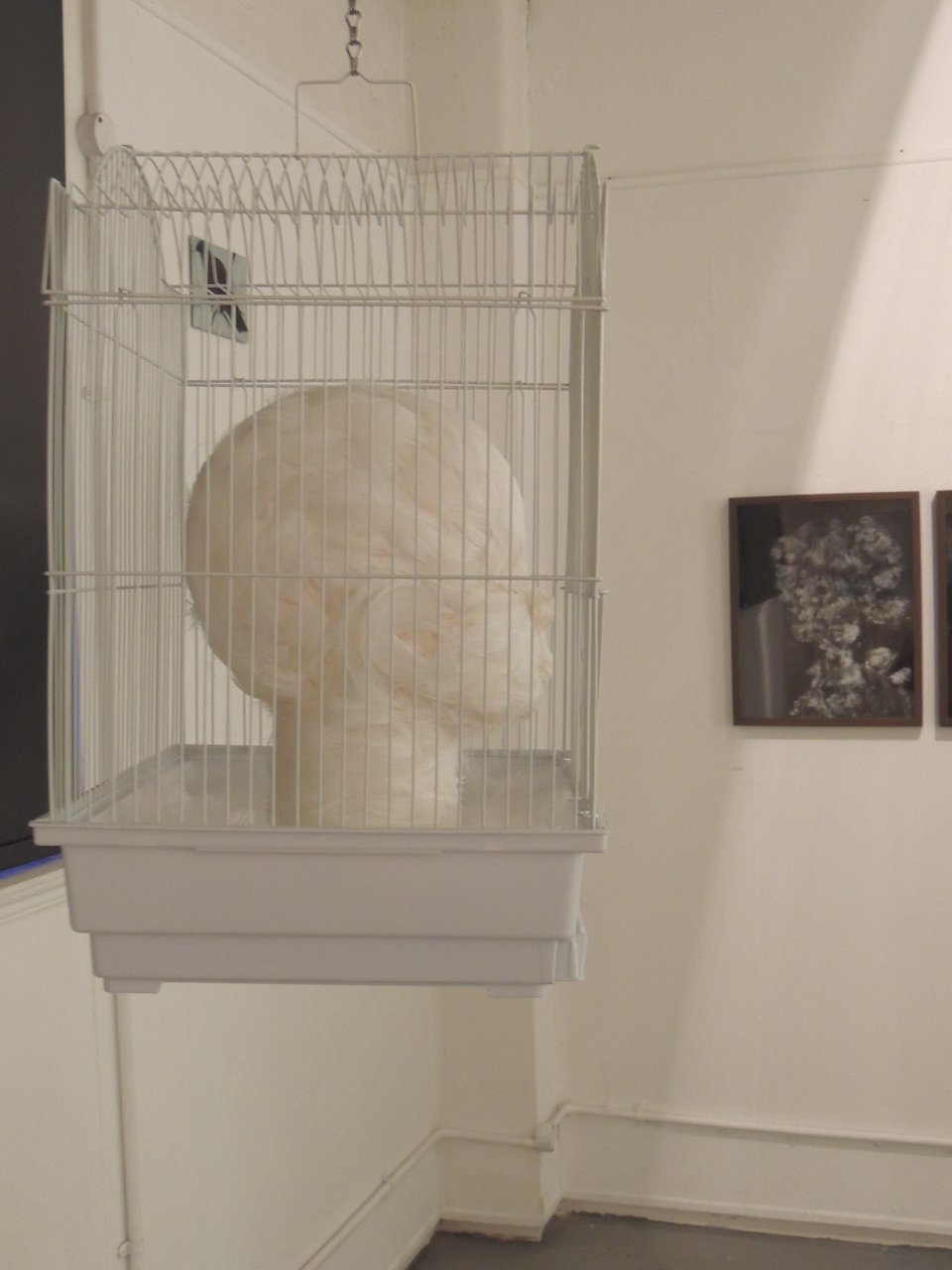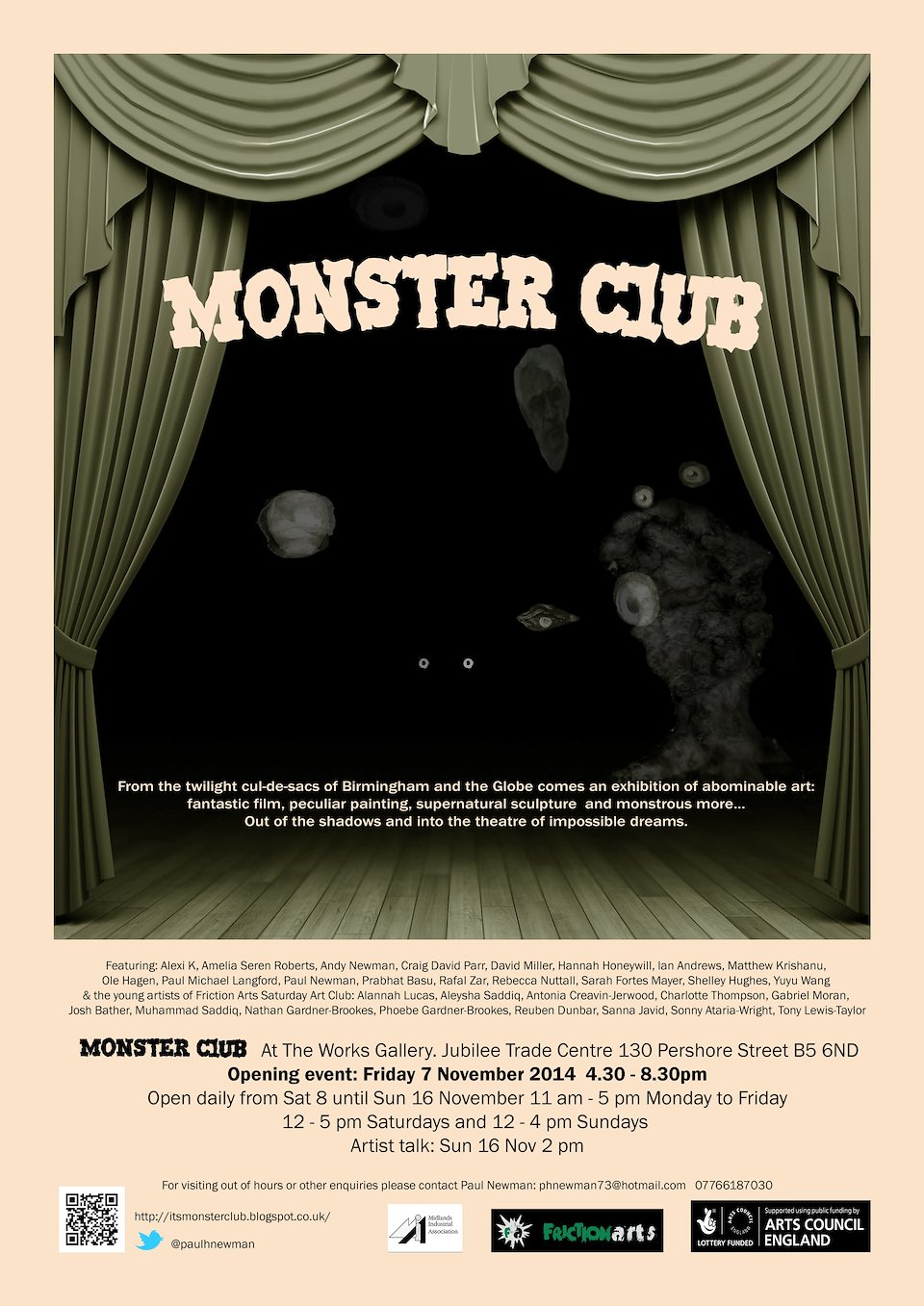 ~ Monster Club ~
Monster Club is a visual art exhibition of Monster themed work, including drawing, painting and sculpture as well as performance based film. The artists bought together for this exhibition have created work that encompasses the idea of the monster. Their interest may be something innate and deeply rooted in perhaps a childhood passion for exploring or depicting a monster or masked character of some sort. The exhibition explores aspects of fear and the uncanny, as well as humour, the absurd and the fantastical. The artists tap into their passion for literary and cinematic monsters, folk stories and allegorical tales. They are conjured up and imagined, they are a dip into the pool of childhood play and the grown up performance of art. The monster makers in the show create a conversation with themselves, the other monsters makers and with you!
The monster makers come together from Birmingham and Loughborough, London and Kolkata. They include regional, national and international artists, recent graduates and current students from the School of Arts at Birmingham City University and Loughborough University. The exhibition also includes the work of a diverse group of young artists aged 8 -16 from a local art club run by Friction Arts.
The Artists: Alexi K, Amelia Seren Roberts, Andy Newman, Craig David Parr, David Miller, Hannah Honeywill, Ian Andrews, Matthew Krishanu, Ole Hagen, Paul Langford, Paul Newman, Prabhat Basu, Rafal Zar, Rebecca Nuttall, Sarah Fortes Mayer, Shelley Hughes, Yuyu Wang and the young artists of Friction Arts Saturday Art Club.
Monster Club is curated by Birmingham based artist Paul Newman. Paul has exhibited at The Jerwood Drawing Prize and Marmite Painting Prize 2012 as well as Painting Show at Eastside Projects in 2011. He is a previous prize winner at The West Midlands Open 2012 and Nottingham Castle Open 2011.
MONSTER CLUB is funded by A Grant for the Arts, Arts Council England and supported by Friction Arts and The Midlands Industrial Association.
For further information please contact Paul Newman phnewman73@hotmail.com 07766187030
http://itsmonsterclub.blogspot.co.uk/ http://paul-newman.net/